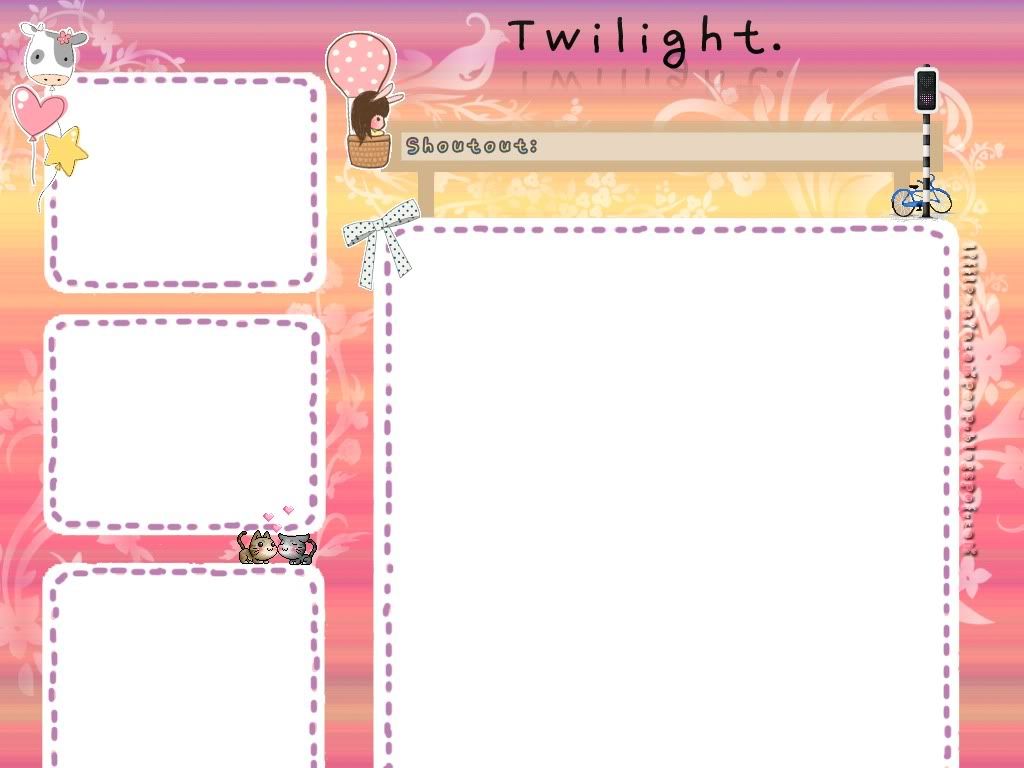 Disclaimer
Welcome to my blog. Before anything else please follow these rules : No ripping, spamming, and any type of childish acts. Respect is a must. Best-viewed with screen resolutions 1024x768. Enjoy your stay and have fun!
Navigations
Home
Profile
Links
Gallery
Me, myself and I

I am a daughter, a sister, a grand daughter, a niece, a cousin, a friend. I am a partner, a student, a young girl and a grown woman. I am confident and scared, terrified and excited. I am loving and caring and thoughtful and hopeful.I am sick and tired. I am shy and friendly and careful and careless. I am broken and whole . I am misunderstood, misguided and mislead. i am hardworking and determined but a little scared on the inside. I wish on stars and dream my dreams. I pray to god and cry my tears. I'm smiling on the outside while I'm dying on the inside. I listen to others who won't listen to me. I walk on eggshells and I walk on fire. I believe in passion but not true love. I love you and I push you away. I want you but not so close. I am everything and nothing all at once. And all I want is for you to love me.

Cravings
Meet Koike Teppei
Meet Show Luo
Meet Fahrenheit / Fei lun hai
be my idols' friend
Have many pictures of us together
travel around the world
have happy family and long life
My Inspiration: Yiruma
Music
Playlist
at
MixPod.com
Blabberings
ShoutMix chat widget
Facebook profile and pages
로페즈제시카 마리
로페즈제시카 마리 aka anjhelrheixza
wE lOvE KoIke TePpEi ♥♥♥
Cute stuffs







Daily Reads

Jacque

Ricalaine
Prince
What time is it?
Recent Post

Δ ʌɛяʏ ℓσиɢ вℓσɢ ʌαcαтισи

1st Recital

Friendship button

Ƭɛи тнιиɢƨ αвσʋт мɛ

1st week of May

Ɯɛℓcσмɛ Ѧαʏ 2011

happy sweet 16th

Momo love

Иσ σиɛ cαи cσиғι∂ɛитℓʏ ƨαʏ тнαт нɛ ωιℓℓ ƨтιℓℓ вɛ ℓ...

вℓσɢ ʌαcαтισи
Archives
SearchBox
Credits
Editor
:
Jac
que
Layout
:
Qing
Inspiration
:
Jie Ji
|
Cynna
1st Recital
I'm currently here in SM and just a few minutes ago I'm in Y. school of music. I was so shy because we have rehearsal today and I didn't comb my hair and use face powder. I was planning to do that but I change my mind and then when we got there, when I was playing the piano, someone enter the room. WHO? I don't know him but he's a PHOTOGRAPHER and take two shots.I'm shy because of my appearance and thinking that my face is so ugly , that I look like a sorcerer because of my hair there so I'm bothered and made some mistake.
And also, they give us the list of the names of the recitalist and when I saw it, my name isn't there. I'm going to ask why my name is not there when an old man go there and asked them why his grandchild's name isn't there and then they said that it's just the first batch. They are going to edit it because some back out.Like the one student there, she's supposed to sing and her name is already in the list, but because of the climate today, I think she have cough, i'm not sure but she's holding her throat, maybe it's not cough, just some ache. Her friend and her teacher is encouraging her not to back out but I think she has second thought.
Anyway, the recital will be held on June 11, 2011.It's my first recital because the music school that I attended before Yamaha moved so there's no recital. And my mom also ask me if I will attend the recital or not because our school's orientation will also be held on June 11, 2011. I decided to attend the recital because I already know where my rooms are and I can just ask where the gym is .
But my problem is I'm so shy and don't have self-confidence and it will be my first time to perform in front of many people. What if my hands shake and can't perform it?It's recorded and every student will have a copy of that. It's a shame.But I'll try my best. Wish me luck : )
3:16 AM |
Friendship button
I received this friendship button from Jacque.
11:19 PM |