CEM test
We had our CEM test today.There are three subjects that we need to answer.The first one is English, then Mathematics and the last is Physics.The color of the English booklet is
green
, the color of the Math booklet is
pink
and the color of Physics booklet is
blue
.
During our lunch break, we decided to share our foods to each other like a real family.I want to take a picture

for remembrance but we are not allowed to bring cellphone
and camera

.
1:10 AM |
Film viewing again

The movie is entitled " Enemy of the State ".

Here is the plot:
As the movie opens, Congress is close to passing legislation to expand surveillance powers of law enforcement agencies. Congressman Phil Hammersley (Jason Robards, uncredited) is trying to stop the bill because he believes it is an invasion of privacy, while Thomas Reynolds (Jon Voight) is trying to push the bill through to confront growing terrorist threats against the U.S. – and advance his own career. Hammersley, on making it clear he will not reconsider, is then killed with a syringe to the neck near a lake by David Pratt (Barry Pepper), one of two rogue NSA agents loyal to Reynolds, who plant a bottle of heart medication near the body to make the death seem like a heart attack. On hand to witness such is Hicks (Loren Dean), Reynold's number two in the NSA. However, a video camera set up by wildlife researcher Daniel Zavitz (Jason Lee) to monitor goose migration caught the entire incident.
When Zavitz views Hammersley's murder, he realizes that the news reports of a sudden heart attack are false and sends word to a friend of his, an anti-war activist and underground journalist. Zavitz is unaware that another of Reynolds' agents saw him retrieve the tape from the video camera, alerting them that Zavitz could have possibly videotaped the murder. He copies the tape onto a computer cartridge, and when NSA agents arrive, he hides the tape in a TurboExpress and escapes. Tracked by satellite and pursued by NSA agents, Zavitz bumps into an old friend from Georgetown University, labor lawyer Robert Clayton Dean (Will Smith) who is in a lingerie store shopping for a gift for his wife.
Dean had just come from a meeting with mafia members who control a labor union he is representing and beat up one of the members for not toeing the line. He had raised their ire by showing them a videotape of Pintero (Tom Sizemore) consorting with union officials, in violation of his parole. Pintero threatens to kill Dean within a week if he does not give them the name of the source.
While Dean hands Zavitz his business card, Zavitz drops the cartridge with the murder footage into Dean's shopping bag (without Dean's knowledge) and then flees. Pursued by NSA agents, Zavitz jumps onto a bike and rides down a busy street, where he is hit and killed by a firetruck. After finding Dean's business card on Zavitz's body, the agents visit Dean posing as detectives from the Metropolitan Police Department of the District of Columbia. Unaware that Zavitz gave him the video, Dean tells them he has no knowledge of their allegations that he was passed "sensitive materials," denying them access to his bags without a warrant. Dean then tries to find these materials, but unbeknownst to him, his son had already removed the device from his shopping bags.
The next day the NSA agents break into Dean's house looking for the tape. While they do not find it, they plant tracking bugs in his clothes and personal items. They also plant audio and video bugs throughout his house, while ransacking it to cover their tracks and bugs. The NSA smears him with a false story about a love affair with Rachel Banks (Lisa Bonet), an old girlfriend who acted as an intermediary between Dean and her contact "Brill", the source of the mafia tape. He is fired from his law firm and thrown out of the house by his wife. When he attempts to check into a hotel for the night, he learns his credit cards have been canceled and somebody has stolen his attaché case.
Believing that all his trouble started with the mafia tape, he meets up with Rachel to have him set up a meeting with "Brill". With Reynolds's men listening in, they set up a fake "Brill" (Gabriel Byrne) to meet Dean to ascertain the whereabouts of the murder footage. He is quickly helped by a stranger (Gene Hackman) escape this agent and taken to a hotel rooftop. The man is retired NSA agent Edward Lyle, the real "Brill", who shows him the bugs that have been planted in his belongings, and tells him the NSA is after him. When NSA agents chase Dean through the hotel, Dean escapes by climbing on the balconies from the roof, in the process removing his bugged clothes and stealing a robe, then setting the janitor's storage closet on fire to activate the fire alarm. While Dean is being transported to the hospital for smoke inhalation, he steals a cop's gun, escapes from the ambulance and runs down a tunnel. The NSA agents are able to watch him by impersonating the DC Metro Police and having Tunnel Control relay to them Dean's movements on their security cameras. Dean escapes by giving his robe to a person doing street sweeping. Dean heads home and is able to convince his wife that he never had an affair with Rachel and, after telling her everything, he realizes that his son must have gotten hold of what Zavitz was trying to give him and quickly retrieves it. Dean then finds out that Rachel had been killed by Reynolds's team (to frame him for murder) by planting the clothes he took off at the hotel in Rachel's apartment. He and Brill make contact and finally discover that they possess the murder video -- just minutes before it is destroyed in an attack by the NSA. Reynolds's team tracked them down after Dean carelessly made a phone call at a nearby convenience store.
While on the run, Brill reveals that he served as Rachel's contact because he and her late father worked together in the Shah's Iran and her father was murdered in the aftermath of the Iranian Revolution. When Dean says he will not leave his family per Brill's suggestion, they decide to engage in some guerrilla warfare against the rogue NSA agents. They use covert technology methods on a supporter of the surveillance bill, Congressman Sam Albert (Stuart Wilson), similar to those used on Dean, that catches him having an affair with his aide and exposes an illegal NSA operation to the NSA's top brass. They also plant evidence that Reynolds is corrupt and having an affair, which angers his wife, and gets his attention so they can arrange a meeting with him. Their plan is to incriminate Reynolds by recording his conversation with Brill about the conspiracy on tape, but Reynolds is able to stall them without revealing any incriminating evidence.
Dean and Brill are captured, and it is apparent that they will be killed in order to eliminate any witnesses. However, Fiedler (Jack Black) audiotapes the conversation between Reynolds, Brill, and Dean. Dean turns the tables by claiming that the leader of the Pintero mafia family has the tape Reynolds is after. This leads the conspirators back to the Italian restaurant that Dean visited earlier in the movie, which he knows is under surveillance by the FBI. Dean then convinces Pintero that Reynolds made the tape of his meeting with the union leaders. Reynolds believes that the tape in question documents the Hammersley murder. The situation quickly becomes a Mexican standoff between the agents and mobsters, escalating into a firefight when one latecomer agent is suddenly shot by staff.
Dean and Brill are among the few survivors. Reynolds, Hicks, Pratt and nearly all of the rogue agents involved in the conspiracy, and most of the mobsters – including Pintero – are killed. The FBI sweeps in and the plot behind the legislation is soon exposed. The only two surviving conspirators, NSA technicians Fiedler (Jack Black) and Jamie (Jamie Kennedy) are taken into custody by the FBI, and the NSA's involvement is covered up by the FBI, by implicating the late Pintero as the one who killed Rachel Banks. Sam Albert informs the media in an interview that the bill did not pass the legislature, and Dean is cleared of all charges and returns home with his wife, while Brill, who escapes to exile in a tropical location, sends a friendly message to Dean via his television set.

and yeah..I borrowed Jacque's Candy Magazine, July issue..The Cover is Kristen Stewart
2:41 AM |
xher.net Grand New Opening Contest
today, we discuss about volleyball.Jackie is the only one who wear red p.e. t-shirt in our class section-A *laugh* but there are more than 7 who wear in other section.This coming thursday we will be having a p.e. again, but karizza and jackie will wear red p.e. t-shirt, not only her.I wonder when will her ( Jackie ) new p.e. t-shirt will be given back.
Anyway, Jackie ask me to join in this contest
its my 1st time to join

Sponsored By :
Qi Wen | Luana | PaperLove | Jasmine | Morgan | Melle

Please follow these simple steps in order to join this contest:
1. Promote this contest in your blog entry
- Copy and paste the code below and post it up in your blog.
- Subject the post as "xher.net Grand New Opening Contest".
- You have to include those link back to xher.net & also ALL the sponsorers!
2. Paste the contest banner in your sidebar
- Copy and paste the code of the contest banner and paste it up in your sidebar, make sure its visible.
- Do not edit,add or modify the code in anyway.
- Triple click the codes, use Ctrl + C to copy & Ctrl + V to paste!
3. Follow me on twitter & tweet about the contest
- But first, you must have a Twitter account, please sign up for an account HERE.
- Follow me on twitter (twitter.com/sonchiwon).
- Tweet about the contest. You can tweet it anyway you like but please do remember to add a link back to xher.net and ALL the sponsorers.
4. Follow my website
- Subscribe to xher.net's RSS feed by email. Click HERE to subscribe.
5. Visit my host @ TheRentOut and also visit the sponsorers too.
- Without my awesome host and sponsorers, this contest will not be able to get hosted so successfully.
6. Comment in this entry with the following details :
Name
Active Email Address
Website
Direct URL of your entry (where you promoted the contest)
Email Address you used to subscribe to xher.net's RSS feed
Your twitter account
Comment :
xher.net Grand New Opening Contest!
I want to join this contest!
7. After you commented to join, wait for an email reply from me!
- Wait for an email reply back from me within 1 – 3 days.
8. Please check your inbox often & visit back regularly to check if there is any new updates about the contest.
- New updates will be updated in this post!
- I will not go around and inform you whenever there is any new updates about the contest.
- I will only inform you via email ONCE the results are out! So please check your inbox regularly.
Important Dates :
- Registration Period : 17 July to 23 July 2010.
- Result Date : 23 July onwards.
Prizes :
1st
- A 1st award banner
- A .us.to domain
* The domain LAST forever.
* The domain has DNS access to it.
- A WP Theme/Blogskin (choose one only)
- 1 year free 4GB Hosting at paperlove.info @ Sis Luana
- 5 months ad spot (125×125)on babypink.us.to @ Sis Jasmine
- 1 month ad spot on dollprincess.org @ Sis Melle
- 2 months ad spot on melonsplash.info @ Morgan
- 5 months ad spot (88×31) on xher.net

2nd
- A 2nd award banner
- A YOU.so-sweet.org subdomain
* The subdomain LAST forever.
* The subdomain has DNS access to it.
- A WP Theme/Blogskin (choose one only)
- 1 year free 4GB Hosting at paperlove.info @ Sis Luana
- 3 months ad spot (125×125)on babypink.us.to @ Sis Jasmine
- 1 month ad spot on melonsplash.info @ Morgan
- 4 months ad spot (88×31) on xher.net

3rd
- A 3rd award banner
- A YOU.so-sweet.org subdomain
* The subdomain LAST forever
* The subdomain has DNS access to it.
- A WP Theme/Blogskin (choose one only)
- 1 months ad spot (125×125)on babypink.us.to @ Sis Jasmine
- 3 weekss ad spot on melonsplash.info @ Morgan
- 3 months ad spot (88×31) on xher.net

4th
- A 4th award banner
- 2 weeks ad spot on melonsplash.info @ Morgan
- 2 months ad spot (88×31) on xher.net
- Subdomain Hosting (YOU.honey-babe.net OR YOU.sweet-loves.net) @ Sis Luana

5th
- A 5th award banner
- 1 months ad spot (88×31) on xher.net
- 2 weeks ad spot on melonsplash.info @ Morgan
- Subdomain Hosting (YOU.honey-babe.net OR YOU.sweet-loves.net) @ Sis Luana

All Non-Winners
- A Participation award banner

Terms of Usage/Rules ONLY for some of the prizes :
- Please do not remove any part of the credit in any of the prizes.
- No Modifying of any part of any of the prizes.
- Please do not redistribute any part of the prizes to any other site.
- Please do not reupload any of the prizes to any other site. It is 100% copyrighted!
- Do not share any of the prizes with anybody else!
5:00 AM |
Ɯɛ ʝʋƨт нα∂ σʋя ғιℓм ʌιɛωιиɢ
We had our film viewing just some hours ago. We started watching at 3:00 and we finished it at 5:10. The movie is entitled : "Clash of the titans".

Here is the story, I just copied it from Wikipedia

King Acrisius of Argos (Donald Houston) locks his daughter Danaë (Vida Taylor) away from mortal men to avoid a prophecy that he would die if his daughter had a son. While she is imprisoned, the god Zeus (Laurence Olivier) impregnates her. After discovering the pregnancy, Acrisius casts his daughter and her newborn son Perseus out to sea in a wooden coffin, hoping to kill both and avoid his fate. In retribution, Zeus not only kills Acrisius, but also orders the god of the sea, Poseidon (Jack Gwillim), to release an ancient monster known as the Kraken to destroy Argos, fulfilling the prophecy. Meanwhile, Danaë and Perseus safely float to the island of Seriphos.
Calibos (Neil McCarthy), son of the sea goddess Thetis (Maggie Smith), is a handsome young man destined to marry Princess Andromeda (Judi Bowker), the daughter of Queen Cassiopeia (Sian Phillips) and heir to the rich city of Joppa. But cruel and destructive Calibos has hunted down anything capable of love, he despises Ares (Robert Addie) because of Ares' love for the beautiful god-child Aura (Ellie Nicol-Hilton) . Calibos destroyed every living thing surrounding the Wells of The Moon, including Zeus's entire sacred herd of flying horses (except for Pegasus). As punishment for this and his many other transgressions, Zeus transforms Calibos into a satyr-like creature who is subsequently shunned and forced to live as an outcast in the swamps and marshes. Thetis, furious at her son's fate, vows that if Calibos cannot marry Andromeda, no other man will, either. Equally infuriated by Zeus's total devotion for his own son, Thetis transports Perseus (Harry Hamlin) from Seriphos to Joppa. Perseus, befriended by the scholar and playwright Ammon (Burgess Meredith), learns of Andromeda and her plight: she cannot marry unless her suitor successfully answers a riddle, and any suitor who fails to answer the riddle correctly is burned at the stake. Armed with gifts from the gods (a sword, shield, and a helmet that renders its wearer invisible), Perseus captures Pegasus and follows Andromeda's spirit on her nightly journey to learn a new riddle from Calibos. Armed with the answer, Perseus is nearly killed by Calibos, but escapes, losing the magical helmet in the swamps in the process.
Perseus appears at the next ceremony for a new suitor and answers the riddle correctly, presenting Calibos's severed hand (with a gold ring on one of the fingers, which is the answer to the riddle) and winning Andromeda's hand in marriage. At the temple to Thetis, Calibos prays to his mother Thetis to take vengeance on Perseus. Thetis tells Calibos that she cannot do so because Perseus is protected by Zeus, but she can take vengeance on Joppa. At the wedding, Queen Cassiopeia compares Andromeda's beauty to that of Thetis herself, which angers the goddess. The statue of Thetis collapses and its head comes to life, demanding Andromeda as a virgin sacrifice to the Kraken in thirty days, or else Joppa will be destroyed.
Perseus seeks a way to defeat the Kraken, while Pegasus is captured by Calibos and his men. Zeus commands Athena (Susan Fleetwood) to give Perseus her owl Bubo as a replacement for his lost helmet of invisibility. Instead she orders Hephaestus (Pat Roach) to build a mechanical replica of Bubo as an aid for Perseus. Bubo leads Perseus to the Stygian Witches, three blind women (Flora Robson, Anna Manahan, and Freda Jackson) who tell him the only way to defeat the Kraken is by using the head of another monster, Medusa the Gorgon. Once a beautiful woman, Medusa had been punished by the goddess Aphrodite (Ursula Andress) by being transformed into a horrible monster. Meeting Medusa's gaze will turn any living creature to stone, including the Kraken. She makes her home on the Isle of the Dead, which lies across the River Styx, at the very edge of the Underworld. Once there, Perseus and his men battle Dioskilos, a two-headed dog that is the guardian of Medusa. One of the soldiers dies, but Perseus and the other two succeed in the slaying of Dioskilos and set forth into the ruins where Medusa resides. One of Perseus's men loses his life to one of Medusa's arrows, while the last becomes caught in the stare of Medusa and is transformed into a stone statue. Perseus eventually manages to not only deceive Medusa with the help of his shield, but also decapitate her with his sword and collects her head, but loses the shield completely in a pool of Medusa's acidic blood. As he and his party set to return, Calibos raids the camp, drives off the group's horses and punctures the cloak carrying Medusa's head, causing her blood to spill and spawn giant scorpions. The scorpions and Calibos attack the party. After the last of his men are killed, Perseus is able to slay the remaining scorpion and manages to best Calibos, whom he finally kills with Aphrodite's sword.
Perseus, weakened by his struggle and running out of time, asks Bubo to find Pegasus. The owl locates Pegasus in the swamp, guarded by Calibos's men and the vulture. Bubo manages to scare them off, destroy the camp, and free the winged stallion. Just as Andromeda is about to be sacrificed to the Kraken, Bubo appears, trying to stall the Kraken while Perseus is seen flying to her on Pegasus. Perseus approaches the Kraken, but is knocked off, falling into the ocean. Bubo retrieves the head and delivers it to Perseus, who frees the head, turning the Kraken into stone which collapses into the bay. Perseus throws the head into the ocean and frees Andromeda. Pegasus emerges from the sea to the crowd's delight.
The gods discuss the outcome of the adventure: Perseus and Andromeda will live happily, rule wisely and produce good children. Zeus forbids the other gods to pursue any vengeance against them. In addition, the likenesses of Perseus, Andromeda, Pegasus and Cassiopeia are set among the stars as constellations to forever remind mankind of the values of heroism and bravery.
3:21 AM |
Ɯнαт α ∂αʏ!

Our first subject is A.P./ Araling Panlipunan. We have a quiz and it's only 3 items ( essay).10 points for number 1, another 10 points for number 2 and 5 points for number 3. Our quiz is very easy

. But I have to review the next chapter because our teacher always call me to recite..As in every meeting.. she's calling my name

so I have to be ready

..

Then our next subject is C.L. Our teacher just discuss about social responsibility..

Our 3rd subject is English.. Our teacher is not there because I think

, she thought that she'll meet us tomorrow but we'll only have 2 subjects left for tomorrow because we 'll have a First Friday mass
in the morning and a half day. So our subject left for tomorrow will be Physics and A.P.

Our last subject in the morning is Math..we don't have our discussion because the tailor got our body measurements..Our adviser said that only the boys will have jersey but because we,girls, also want to have it ,our teacher agreed

in our decision.We have to choose what number we like to put at the back of our jerseys and I choose No. 1. I like number 24 but many choose 24 so I just change my mind.And my bestfriend Jacque choose Number 16 and Ricalaine choose number 22.

In the afternoon, our first subject is Mapeh. We have our practicum. The Group 1 was the first to sing

.Our classmate, Hasley, repeated many times in singing our national anthem because he forgot the lyrics and I think he just forgot it because he's so nervous

At last after how many times , he just remembered the correct lyrics then after he finished the song everybody is cheering

, clapping

and laughing

. Lucky that Jacque and I are group 2 so we'll have time to practice
.

After our Mapeh subject is Physics ( 2hrs ) We studied about technology, scientific notation and many more.

The last subject is Math..10 minutes before time to go home.. we cleaned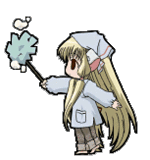 the room so before the bell rang we already finished cleaning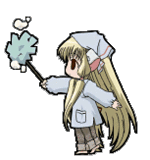 and we can go home earlier. I waited too long alone in the gate of our school waiting for our service. I decided to go home but I just told my self to wait just for some minute. It's already 5:20 and he's still not there

..Then I think..I have to go home now because I'm so tired

of waiting..I'm just gonna let 5 vehicles

to pass then I'll go..and finally He's there

..oh what a good timing
4:16 AM |